First Trial
When I first put them on in the house, I was hot and it was humid so they steamed up straightaway, but as soon as I started moving they de-fogged. The much vaunted airflow across the lens worked a treat. And in fact wearing them with the leash it felt a little like they were ski goggles – since the rubberised inserts sits snugly on the face. This first 'test' gave me confidence that they are really going to work.
So off I sailed, feeling like the dogs bollocks. Sailing around they felt comfortable and I could see clearly and they were doing their job cutting down the glare and so on. Then I went into the water. When I bobbed up again the glasses were still in place. However there were a few water droplets across the lenses – no fewer than a 'normal' pair of sunnies – but I thought that once I get moving again that the combination of airflow and the lens coatings would disperse the droplets and I would be clear again – but this didn't really happen. They didn't disperse but dried out, leaving behind a salty residue that makes the view a little misty. This would happen each time that I went in and gradually the salt residue would build up. I perservered for about 40 mins and eventually I took them off, since I could no longer read the water very well and so it was difficult to anticipate gusts and lulls and to ride the swell effectively.
So I am disappointed with my first trial. Tomorrow I hope that I can sail again, so I will give them another go.
Second Trial
So after soaking and then rinsing the glasses (as per instructions), I left them to dry overnight. The next day they still had a misty film on the inside of the lenses. So I washed them with soap and hoped that the adherence of the water droplets was due to 'factory finishes' or dust particles and that washing them with soap would improve performance. (Rather like manufacturers of swimming goggles and masks suggest that they be washed in soapy water before using for the first time).
So off I went. This time I didn't have the leash set so tight, so the glasses didn't sit flush against my eye socket to try to promote more air movement across the inside lens. Certainly blasting around any spray was quickly dispersed from the lenses. Life was again looking rosy, but the real test would begin once I went into the water. And once that happened then basically the pattern of the previous day repeated, gradually the lens became more and more obscured. After about 45 mins I had to take them off because I couldn't see well enough to read the wind and swell. Disappointing.
Third Trial
This time I washed them with detergent (Fairy) hoping that might improve matters. For this session I was sailing for longer before I got my first rinsing. So I certainly enjoyed the glasses – they were comfortable – and a clear view. Any spray was dispersed well. Once I did go into the water then it was as before – basically I could continue to wear them for about 45 minutes, before I had to take them off.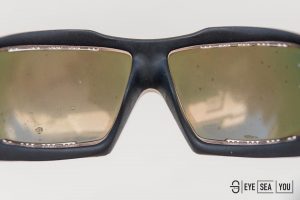 This shot shows the salty residue that has dried on the inside of the lenses after coming out of the water.
I rinsed the right hand lens and gave it a quick wipe to try to show the difference in clarity between a clear lens and the 'saltwater lens'.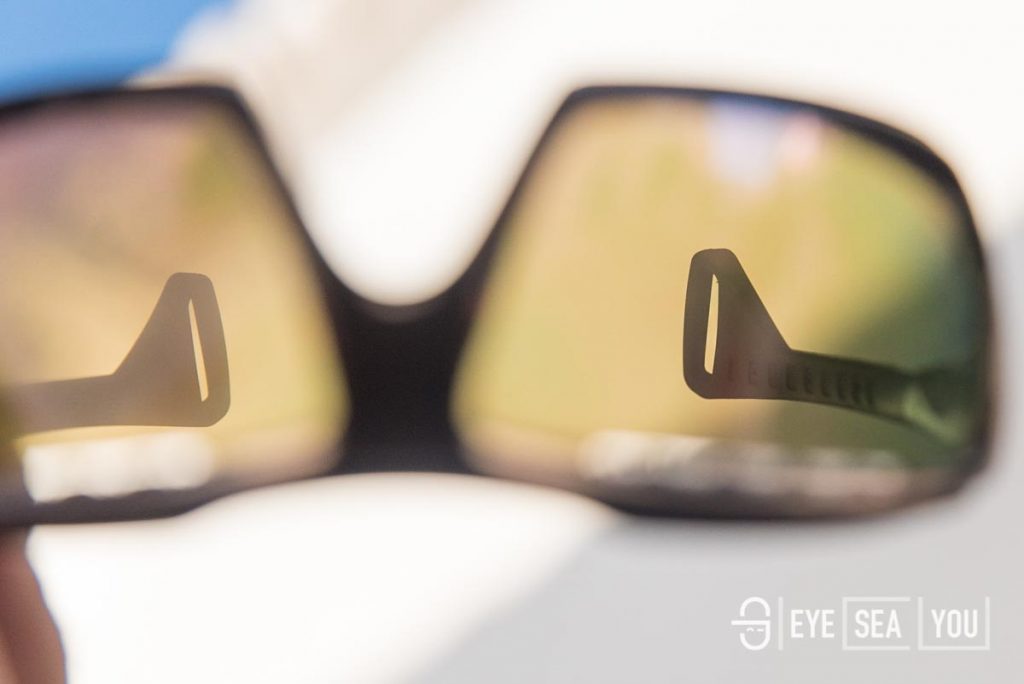 Here you can see that the arm on the right is clearer and can see more definition than that on the left, seen through the salty lens.
My conclusion
The quality of the lens is not in question – my eyes felt relaxed in bright, sunny conditions and the polarisation is very good. They are comfortable to wear on and off the water and are made with high quality materials. The leash system appears extremely robust and works well, the sunglasses stay in place when hitting the water – not sliding up and off the face. The addition of the rubberised inserts between the frame and the face really help in this regard and for comfort in general.
My disappointment, however, is that once they get wet then it is only a matter of time before my vision is compromised from dried salt residue, rendering them useless for effective windsurfing. Perhaps it was naïve of me to expect that lenses that get wet (in saltwater) will remain crystal clear for the whole session – but the Eyewear Guide makes much of the glasses ability to repel water droplets through expensive coatings (hydrophobic and oleophobic) and the ventilation of the lenses.
In summary:
PROs:
awesome leash retention system, you aren't going to lose them;
fantastic Zeiss lenses with really good polarisation (non-polarised options also available);
rubberised frame means very comfortable to wear and reduces impact when hitting the water;
frame material seems extremely durable.
CONs
after 45 mins I have to take them off due to lack of clarity of vision.
And a final point to consider, is your choice of lens options: whilst I went for a polarised lens – in order to reduce the glare – I would think twice about this next time, since it makes it more difficult to read the water.
I will continue to use them, after all I've invested 200€ and 45 minutes of protection is better than none. And for flatwater paddling and windsUPing they will be great. In general I try not to sail much more than 60 mins before taking a break for water/re-focus etc., so I will have the opportunity to rinse and reset the lenses.
I will post another update in a couple of months – after I have used them in a wider variety of conditions, but in the meantime if you have a question to ask or a comment to make then please do so below or contact me by email (link top right).
Other reviews: