First thing to say – this review is NOT paid for in ANY way and I have zero connections with LiP Sunglasses company.
So I am a watersports photographer – I spend alot of time in bright sunshine close to or in the water. And I take care to protect my skin and to wear sunglasses at all times. But when I am sailing, no sunglasses. They are more hassle than they are worth, aren't they? However, where I am currently living, the best conditions typically mean that I am sailing directly into a low sun – the water is all lit up: I can't look ahead, it is like staring directly into the sun and that means that I can't read the water. And for me being able to see the wind on the water and to read the swell is really important.
So, I thought I would look at what is out there. After doing some research I decided upon LiP Sunglasses:
They are a brand that is dedicated to producing sunnies for water sports. I am always drawn to companies that work in a specific sector or niche. Often the founders are themselves enthusiasts and are looking for a product that solves a specific problem that hinders their enjoyment of that sport or activity. Often it signifies that their products are well thought through and designed. And more often than not it means that more of your investment is going into the final product you receive (quality of materials etc), rather than perhaps subsidising another product area or division.
They get good reviews – in online forums they were getting a lot of recommendations from users who have switched from other brands.
They use Zeiss lenses (which I love). Zeiss are second to none. I used to use Zeiss lenses for my photography. My favourite ever pair of sunnies had Zeiss lenses (those irreplaceable sunnies were destroyed by my gorgeous god-daughter, a bitter sweet moment 😳🤣. RIP). My current main pair of sunnies use Zeiss lenses.
So I pored through their website and downloaded an Eyewear Guide from their website. I highly recommend downloading it – it is not a sales brochure dressed up as an "eyewear guide" – but has some useful information and advice for anyone looking to buy a new pair of sunnies regardless of brand (everything from lens materials, lens coatings, shapes through to care and maintenance to give your sunnies a long life). Check the link at the bottom of this post to get yourself a copy, it is very useful.
They offer 3 ranges of watersports sunnies – a range for light wind and flat water watersports (SUP; wind foil etc) and two ranges for windy and wavy watersports (or rather high impact crashing watersports! 😄) I decided to go for the Typhoon model. The key aspects that drew me to the Typhoon were that a) they are dedicated to watersports and so they have spent time thinking about how to keep lenses clear of water droplets and from fogging up; b) they have a leash system that they GUARANTEE that you won't lose your sunnies in the water.
There are a bunch of different frame and lens combos. I finally settled on my pair, led by the lens type: Frame: Transparent Grey; Lenses: Brown, Multilayer Rose Gold, Polarized
So the Typhoon glasses come in their own zipped hard case, with rubberised exterior, that holds the sunnies and the leashes in their own separate compartments. The case can be thrown into a kit bag and the sunglasses will be well protected. There is a small manual that explains how to assemble the leash and suggestions for looking after the lenses. First impression gives confidence of a quality product.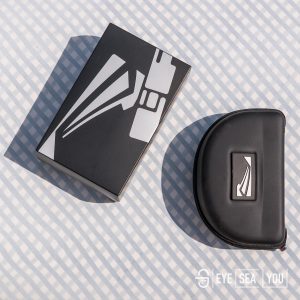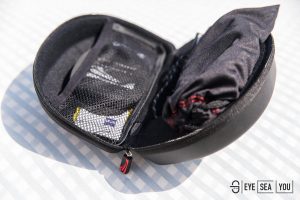 Trying on the sunglasses they fit well. My main concern was whether my eyelashes would be touching the lenses – I have had that problem before with a wraparound style – but no issues. My second concern was about the light transmission (VLT). The lenses I chose had a VLT of 14% – suggested use "sunny and mixed weather". Perhaps too much light transmission for a sunny day in Costa Blanca? I wore them for half an hour walking around by the sea and no discomfort – either from the light transmission or from the frames. They fit snugly and no issues with pinching or rubbing. And the wrap-around style means that the field of view is massive – no frames obscuring your peripheral vision and worse still, sunlight directly hitting the eye from the side. And as expected, the Zeiss lenses give a crystal clear view and the polarisation cuts out glare and delivers super crisp and saturated colours – life certainly looks good through a pair of LiP sunglasses!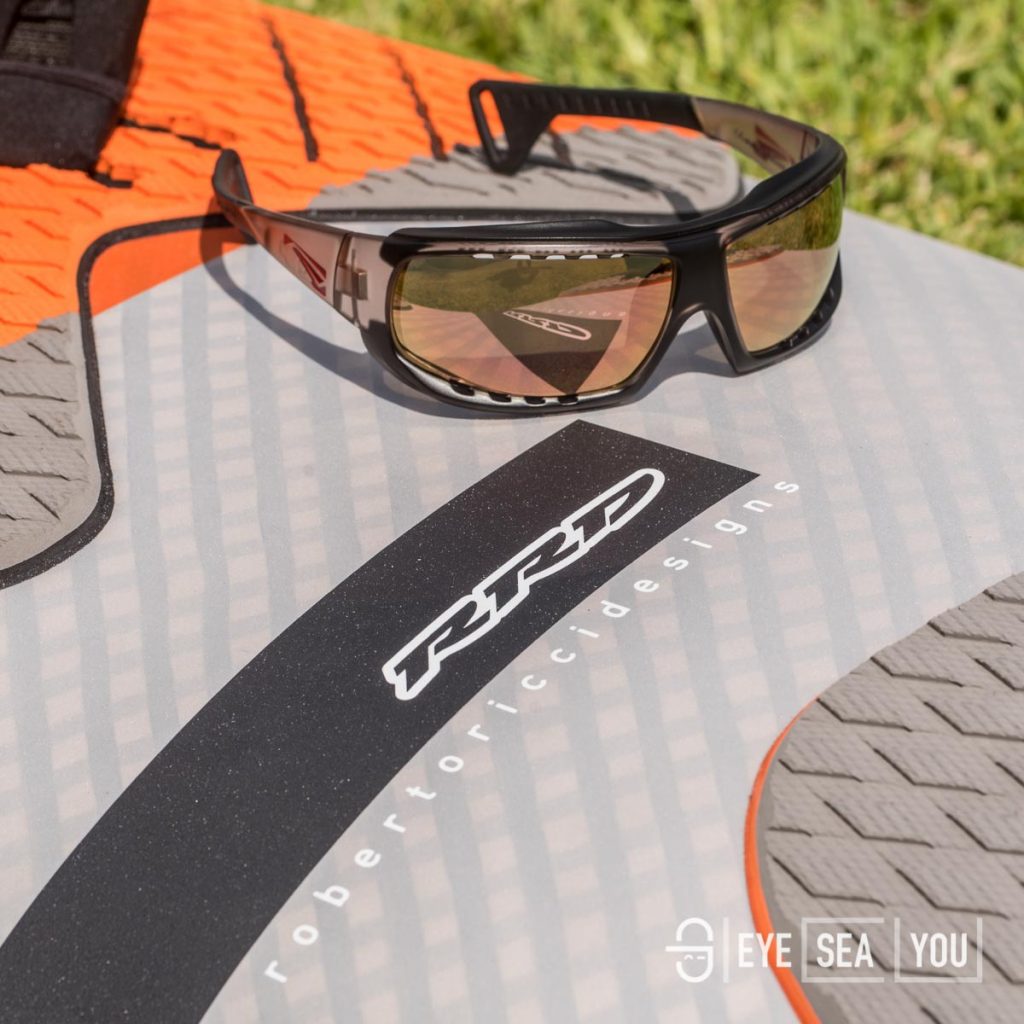 The frames have a soft rubber insert between the frame and the face – this helps with comfort and in the blurb "acts as a cushion on impact". Certainly it makes them very comfortable to wear. The frames and lenses are light, so they are not sliding down down my face (a particular consideration for me with glasses and sunglasses), obviously this would not be an issue on the water when using the leash.
So what of this guaranteed leash system. Basically it consists of a silicone 'necklace' to which the retainer leash connects. The necklace is thick and appears heavy duty and durable. The leash connects to the silicone necklace with a clip – the fit is extremely snug, I don't see that it could become disconnected – the only way might be if the silicone were to be cut – but I think for that to happen then losing your sunnies would be the least of your problems! 😳 😆
So first impressions: pleased with my choice – the sunnies look great, fit great and feel comfortable and the view through the lenses is superb.
This is all well and good, but as we say in English, the proof is in the pudding. That is, how do they perform in the water? . . . . . Well, you'll have to wait for part two (while I wait for a windy session to try them out)!
LiP Sunglasses review – part two
Link for the LIP Sunglasses Eyewear Guide